- Words and recipes by Ellie Shortt Food Photography by Don Denton
If all the world's a stage, then is everything we do, create, even consume, a performance? Are the seemingly simple daily tasks of grocery shopping, cooking and eating some sort of presentation signifying, perhaps, our preferred or perceived roles in the great show we call life?
Even if that feels like a bit of a stretch to you, I know I have put on dinner parties which certainly felt like major productions. Setting the "stage," conceptualizing the "acts," even keeping in mind the various "players" and how they would interact with, contribute to, or otherwise mould the evening's "show."
I have also been a delighted attendee of many multi-course meals, orchestrated by a true artist, performed by a large ensemble all working in tireless harmony together night after night, and emceed by well-rehearsed servers who nail all their lines. Dessert has always seemed to me like a stunning grand finale, whereby I've sometimes felt inspired to stand-up and cheer "Encore! Encore!"
Historically, food and performance have had a fascinating love affair. Since humans began putting on productions, we've enjoyed combining our viewing pleasure with some sort of snack. When exploring sites of ancient Egyptian, Roman and Greek theatrical performances and gladiator events, archaeologists discovered food fragments of figs, grapes, cherries, blackberries and walnuts.
Similar foodstuffs were found on the floor of the Rose Theatre and Globe Theatre (where Shakespeare's plays were performed). There they found evidence of grapes, figs, blackberries, raspberries, plums, almonds, hazelnuts and a bit of bread, as well as small animal bones that suggest playgoers "could certainly have eaten a cold chicken," as suggested by archaeologist Julian Bowsher. The most copious food scraps found were in fact seafood shells (primarily oysters) and even some fish bones. Both theatres were located near pubs and food stands, and historians believe there were opportunities for pub employees and food vendors to sell bites and beverages in the play-yard, or even bring certain elevated items up to the higher seat tiers.
Perhaps one of the most famous foods associated with the theatre is French onion soup. While its origins seem to date to the 17th century, specifically the hunting lodge of King Louis XV, the soup gained popularity in the 19th century, solidifying its association with theatre-goers who, in wintertime, gathered in bistros and brasseries to warm up before or after a show with a hot bowl of cheese-covered comfort.
Around the same time, circuses and carnivals were gaining popularity, as were circus-themed snacks such as cotton candy, lollipops and caramel corn.
By the 1920s, the film industry was gaining such momentum that it heralded the beginning of Hollywood's Golden Age, marked by the growth of major production companies and, of course, the arrival of the "movie star." Suddenly people were fascinated with celebrities, such as Mary Pickford, who had a cocktail named after her. Pickford was America's sweetheart in the 1920s, and starred in silent movies alongside famous actors like Charlie Chaplin. Apparently, she and her husband Douglas Fairbanks (also a famous actor) were in Havana with Chaplin, when a bartender whipped up a tropical concoction and named it in her honor.
Food has also had some more analytical associations in the world of performance, whereby the potentially destructive nature of the food industry, mass production, over-consumption, waste, inequalities and injustices have been put in the spotlight through critical performance art. Even our roles as performers and upholders of societal norms as related to food have been explored. Sonja Stummerer and Martin Hablesreiter, under the sobriquet Honey and Bunny, created whimsical banquets for museum-goers that they emceed in clown makeup. They staged photos and videos starring themselves as diners in an odd parallel universe governed by outlandish etiquette. Whether eating colour-coded meals with paintbrushes and tweezers rather than forks or nibbling foods that hung at eye-level from the ceiling, their work evokes the underlying message that our accepted norms may be as arbitrary or even silly as the ones being performed by a pair of clowns.
Whether you're examining gastronomic social contracts as you shop, cook and dine, taking a look at and taste of theatrically themed foods throughout the ages, or simply setting the scene for a dinner party worthy of a standing ovation, there's no question food has a strong and fascinating association with performance.
Then again, I personally feel food has a strong and fascinating association with almost everything, but I might be a touch biased.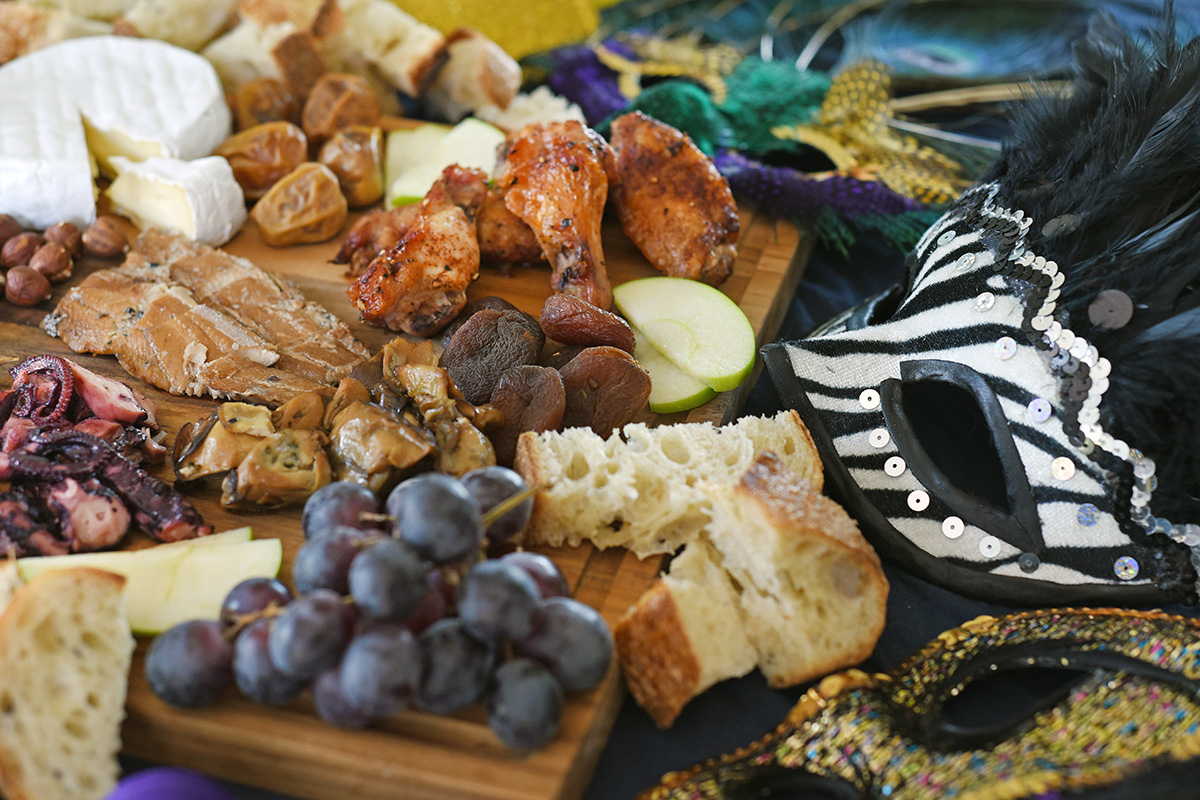 Shakespeare-Inspired Snack Platter
Add a bit of excitement to an otherwise ordinary charcuterie board with hearty additions like chicken wings and smoked seafood. Along with cured meats, cheeses, fruit, nuts and chunks of rustic bread, these were some of the favourite foods enjoyed by Elizabethan audiences of the Globe and Rose theatres, and will no doubt be a welcomed surprise to hungry guests at your next dinner party. Bonus points if the dress-code includes ruffled collars or theatrical masks.
Elements shown here…
Rustic sourdough chunks
Smoked seafood: oysters, kippers and octopus
Meat: saucisson sec, bresaola and crispy salt and
pepper chicken wings
Cheese: aged cheddar and Brie
Nuts: raw almonds and hazelnuts
Dried fruit: dates, figs and apricots
Fresh fruit: apple slices and grapes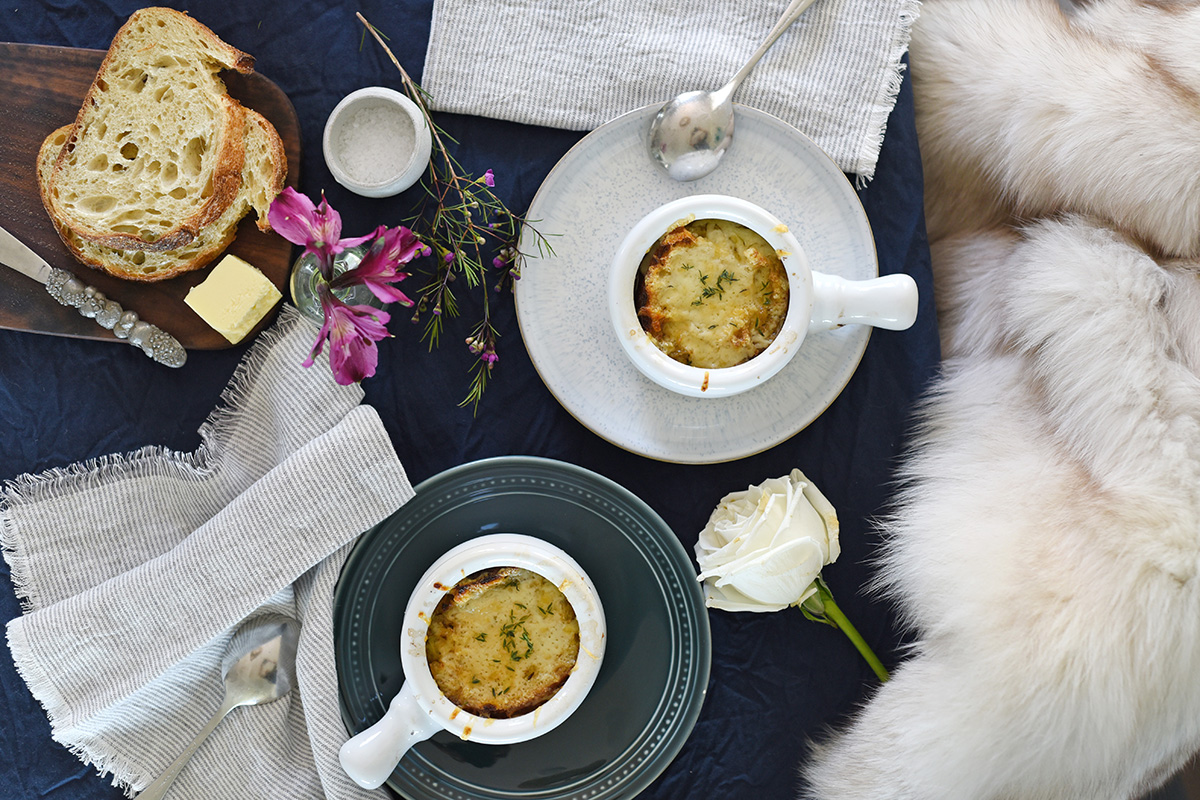 French Onion Soup
I first learned how to make this soup while participating in a culinary course in Paris in my mid-20s. Our extremely traditional Normand teacher insisted that two onions per person was an appropriate ratio, although if you're using very large onions, one per person seems to be enough. That, I leave up to you. Either way, it truly is the most satisfying supper on a cold and stormy night, or a surprisingly simple, yet always appreciated starter for a French-themed dinner party. The oniony broth base can certainly be made ahead of time for added ease—I've personally kept it in the fridge for a few days and just sliced, toasted, grated and broiled as needed throughout the week, and have also found that it freezes quite well for the preppers and planners in the audience.
Cook time: about 1 hour
Makes 6 to 8 servings
Ingredients
6-8 large onions
Extra virgin olive oil (about ¼ cup)
Unsalted butter (about ¼ cup)
Sea salt and freshly cracked black pepper to taste
2-3 cloves garlic, minced
About 8 cups beef stock, chicken stock, or a combination of the two
½ cup dry vermouth or dry white wine
A few bay leaves
A few sprigs of fresh thyme
6-8 thick slices of French bread, cut into rough rounds the size of your oven-proof bowls (the ones shown here are about 4 inches across)
1 ½ - 2 loose cups of grated Gruyere cheese
Directions
Peel and thinly slice the onions. In a large pot over medium heat, melt the butter and add the onions. Cook the onions, stirring every few minutes, until they have fully softened, about 15 to 20 minutes. Increase the heat to medium high, add a bit of olive oil and cook, stirring every couple minutes until the onions start to brown slightly. Bring the heat back down to medium, add the minced garlic and cook for a few minutes more, until the garlic is soft.
Add the wine or vermouth to the pot and scrape down the browned bits on the bottom and sides of the pot (i.e. deglazing the pot) for 5 minutes. Add the stock, bay leaves and thyme. Increase the heat to bring the broth to a simmer, then cover the pot and lower the heat to maintain a low simmer. Cook for 30 minutes. Season to taste with salt and pepper. Discard the bay leaves and thyme twigs.
While the soup is simmering, preheat the oven to 450 F. Lightly brush both sides of the bread with olive oil and place on a baking sheet. Put in the oven and toast until lightly browned. Remove from oven and set side.
To serve, spoon the soupy onions into individual oven-proof bowls so they that they fill about one quarter of each bowl (or more if you like it extra oniony). Fill the rest of the bowl with broth, leaving about half an inch for the bread to tuck in slightly. Carefully place the toasted bread rounds on top of each bowl and sprinkle with a handful of cheese. Place the bowls on a baking sheet and put under the broiler set to low for 10 minutes, or until the cheese bubbles and is slightly browned. Garnish with a bit of fresh thyme leaves, serve and enjoy!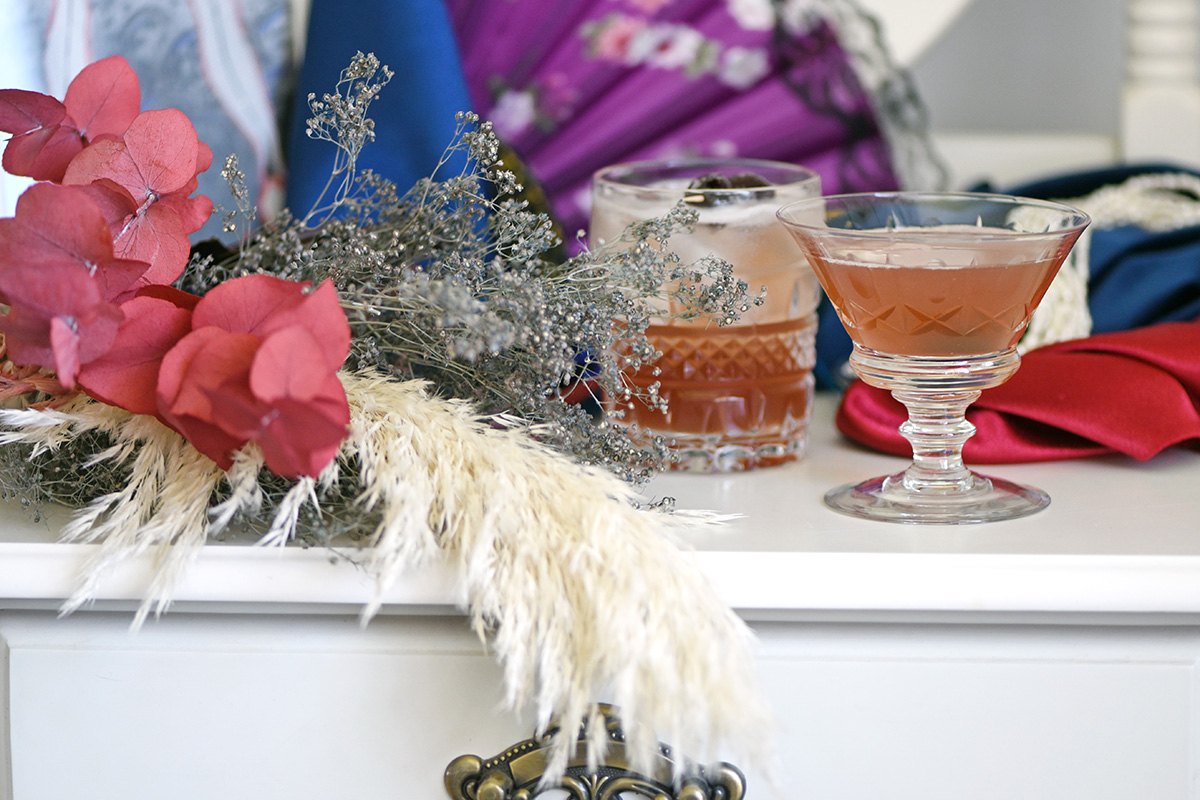 Mary Pickford Cocktail
Anyone can find a classic Mary Pickford recipe online or in almost any classic cocktail book—and there's nothing wrong with the original. However, most recipes call for maraschino liqueur and I wanted to offer a fully non-alcoholic option for those avoiding the hard stuff. I also find Amarena cherries more rich and nuanced than maraschino, adding more depth and intrigue to an otherwise familiar flavour profile. You can, of course, purchase grenadine syrup, but once again, nothing beats homemade. The flavour is so much more satisfying, and you're avoiding a wacky array of dyes, preservatives, additives and chemicals often found in store-bought cocktail syrups. This particular recipe for homemade grenadine is exceptionally simple and easy, and while sourcing the ingredients might seem somewhat daunting, they're surprisingly easy to find at most Middle Eastern and European specialty stores.
Prep time: about 2 minutes
Makes 1 cocktail
Ingredients
2 oz white rum (or some soda water if making a non-alcoholic version)
2 oz pineapple juice
2 tsp homemade grenadine (see recipe below)
1 tsp syrup of jarred Amarena cherries
(I use Fabbri brand jarred Amarena cherries, which can be found at many European specialty food stores)
Optional garnish of Amarena cherries
To make the cocktail…
Combine the rum (if using), pineapple juice, grenadine mix and cherry syrup in a cocktail shaker with a bit of ice. Pop on the lid, shake well for a few seconds and strain into a martini glass. If you're doing the non-alcoholic version, leave out the rum, of course, strain into a rocks glass with a couple ice cubes in it and top with soda water. Garnish with some cherries and enjoy!
To make the homemade grenadine…
In a mason jar with a tight-fitting lid, combine ½ of a cup of pomegranate juice with ½ of a cup sugar, and shake vigorously until all the sugar is completely dissolved. Add in 1 tablespoon of pomegranate molasses and ¼ teaspoon of orange blossom water (both can be found at Middle Eastern specialty stores), put the lid back on and give it another good shake until fully integrated.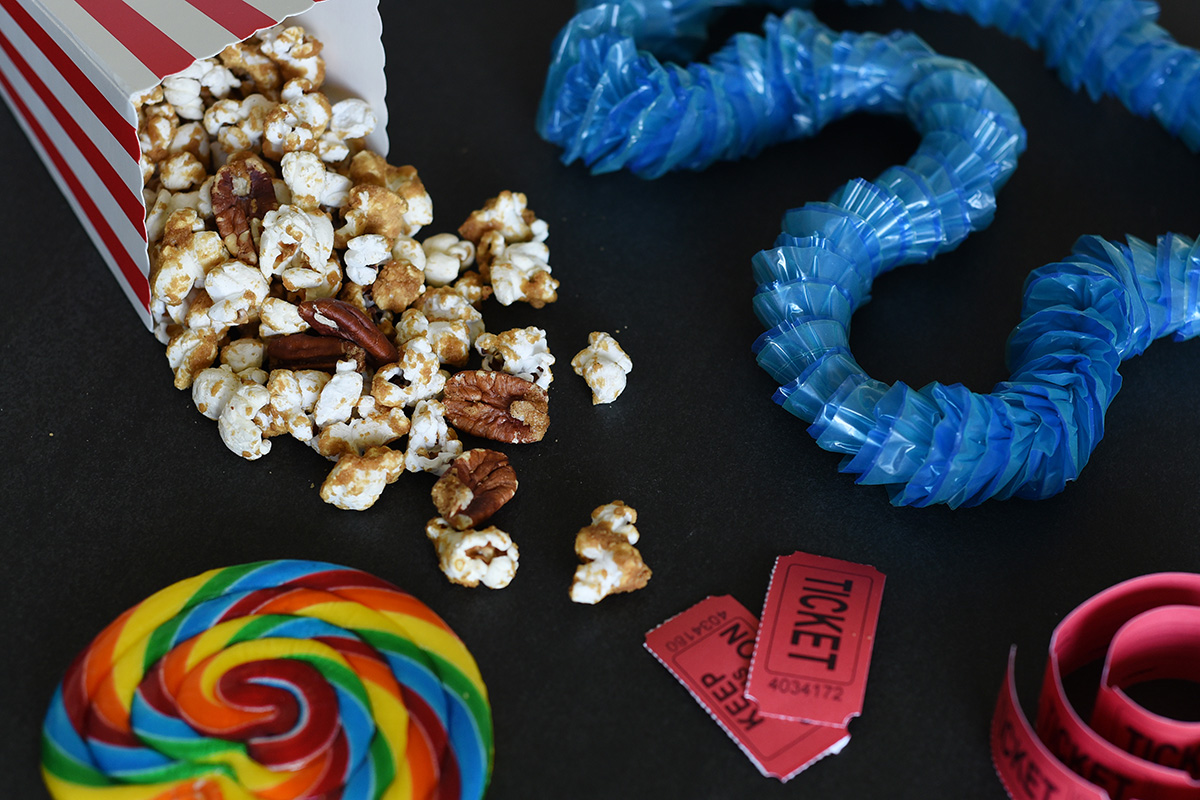 Maple Pecan Caramel Corn
While caramel corn is readily available at many grocery stores, nothing beats a homemade recipe. Not only are you able to avoid many of the problematic preservatives and additives often mixed into foods of this kind, but you can make it your own with additional flavour options like maple syrup and pecans, as suggested in this recipe. Even a sprinkling of cinnamon or other spices goes wonderfully on a sweet snack like this! Make a batch for a movie night, or even serve alongside a charcuterie spread or dessert platter at your next gathering.
Cook time: about 1 hour
Makes about 6-8 servings
Ingredients
13 cups freshly popped popcorn (about ½ cup un-popped kernels cooked as per the instructions on the package)
¼ cup butter
1 ¼ cups (9.4 oz, 266 g) light brown sugar, packed
¼ cup maple syrup
2 tsp vanilla extract
½ tsp sea salt (plus more to garnish if desired)
¼ tsp baking soda
1 cup raw pecans
Directions
Place the popcorn and pecans in a large bowl and set aside. In a small saucepan over medium heat, melt the butter and then add the brown sugar, maple syrup and salt. Bring to a boil, and boil for 5 minutes, stirring occasionally, until the sugar is fully dissolved. Remove from the heat, stir in the vanilla and baking soda, and mix well. Pour the caramel over the popcorn and pecan mix and stir until well coated. Transfer the caramel popcorn onto two large lightly greased baking sheets. Bake at 250 F for about 45 minutes, stirring every 15 minutes.
Cool completely and enjoy or store in airtight containers for up to a week.
Story courtesy of Boulevard Magazine, a Black Press Media publication
Like Boulevard Magazine on Facebook and follow them on Instagram